From 21 October to 14 November, a lockdown and strict safety measures have been announced in Latvia due to the rapid spread of Covid-19 infection.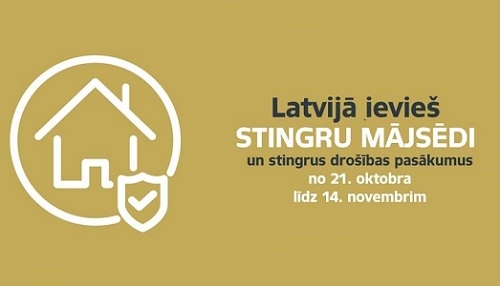 Based on Cabinet of Ministers order No. 748 from 20 October 2021, by which amendments have been made to Cabinet of Ministers order No. 720 from 9 October 2021 "On the declaration of an emergency situation" and the order of the rector of the Luther Academy No....."On the organization of the study process from October 21 to November 14, 2021', it is stated:
To discontinue the study process in person and to ensure studies remotely.
In remote study classes, the student is obliged to comply with the "Procedure for the Remote Study Process at Luther Academy" and other regulatory documents.
Luther Academy does not provide until November 14, 2021 on-site services (issuance of certificates, library services, etc.). If necessary, contact the LA Study Department by phone: (371) 29128655 or email: info@lut.edu.lv
IMPORTANT!
Every student, lecturer and employee of Luther Academy has a responsibility to get acquainted and take into account the restrictions imposed in the country SEE here! I
It is necessary to take into account that even outside the study process and the performance of work duties, in the prescribed period of time there is a need to reduce social contacts, avoid places where gatherings of people take place.
If place of residence or place of maintenance within the specified period from 10.00 p.m. till 5.00 a.m. must be left for justifiable reasons, it is mandatory to fill in a self-certification which can be downloaded on the website of the State Police.
LET US BE UNDERSTANDING AND RESPONSIBLE, OBSERVING THE ESTABLISHED STRICT EPIDEMIOLOGICAL SAFETY MEASURES!